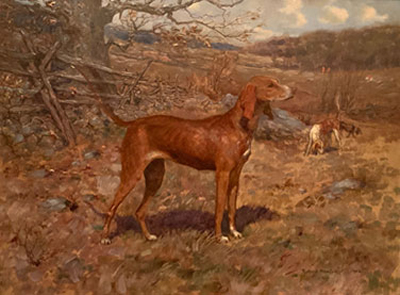 Over 100 years after they were painted, recent research by the MHHNA led to the surprising discovery of both portraits, in a private collection near Savannah, GA. They are unveiled to you virtually at this time. We hope to arrange for an exhibition of these important works, and perhaps a future bequest to the Museum.
From our current vantage point, summer 2020, the three names mentioned above will likely have little significance. To underscore the importance of all three, the Museum in its mission to preserve and promote hunting history, is showcasing two unique foxhound paintings and paying tribute to the painter, Richard Newton, Jr.
Today largely unknown, Mr. Newton, at the time of these paintings was a well-respected American artist, MFH, and New York gentleman. Therefore in 1906, it would not have been surprising that the Orange County Hunt commissioned him to portray Ranta and Stafford'99, two of their leading hounds.
For forty seasons, until 1942 Mr. Newton (1874-1951) served as the master of the Suffolk Hunt on the east end of Long Island. Early in the 20th century the painter was considered one of America's most important sporting portraitists. His subjects were the leading foxhunters of the day. Most were members of prominent families who held their paintings
privately, either in their city apartments or country estates. After 1916, the date of his last known exhibition in New York, Newton's work was never collectively displayed, and fell into obscurity, except perhaps for those, who like Newton himself, were listed in the Social Register. For the sportsmen among them the name Richard Newton, Jr. continued to hold important artistic significance. Today it is the children and grandchildren of his fox hunting
patrons who display these paintings.
The restoration of Newton's artistic reputation began in May 2002, when I gathered thirteen canvases from private family collections for the Museum's American Sporting Artists Series. Recognition of Newton's talent has been on the rise ever since. Earlier, in 1999 the Museum's unique room screen, Blue Ridge Hunt, painted by Newton in Virginia in
1922, inspired me, then the MHHNA Director, to begin researching Mr. Newton's life and artwork. This research led to the discovery of more than thirty-five additional paintings, and culminated in my 2006 publication of With Brush and Bridle – Richard Newton, Jr. – Artist and Equestrian. Today, more than 125 of Mr. Newton's sporting paintings and equestrian portraits have been have been discovered.
From an early age Newton displayed talent with his paintbrushes and by 1891, at seventeen, was exhibiting in New York, Boston and Chicago. His painting was further refined by both turn of the century life and studio art study in Paris at the renowned private academies, Julian and Colarossi. Simultaneously, hunting took hold of his artistic temperament when the notable Meadowbrook Hounds hunted the Hamptons early 1890's. He also hunted there with the Monmouth County Hounds, a private pack belonging to P. F. Collier until 1902 when Collier's Hampton hunting rights were transferred to Newton, who became MFH of the newly formed Suffolk Hounds.
This timeframe also marks a major change in Newton's artistic subject matter which moved away from earlier Long Island seascapes and landscapes, exotic Moroccan travel paintings, and large interior murals for churches and mansions, such as a medieval scene on a dining room ceiling and book illustrations for Katrina Trask, Saratoga Springs, NY. Although smitten since his youth with riding and hunting horses, driving carriages and coaches, it was not until 1903 with the sporting portrait commission George Jay Gould's Two Sons on Polo Ponies a mural 9' x 12' for the family home at Lakewood, NJ, that the artist turned his talents to sporting painting. Over the next nearly 50 years Newton's paintings included leading race horses, driving horses, harness horses, show horses, breeding stock and their progeny, foxhunting horses, and equestrian themed pictures, many of which were double portraits of both the leading members of society and their horses.
In 1906 Newton, likely traveling by train, along with canvas and art supplies, arrived in the Plains, Virginia, the new home of the Orange County Hunt, recently relocated from Goshen, NY. MFH John R. Townsend, the artist's friend and colleague, was keen to obtain portraits of the club's leading American hounds. They represented a new direction in the hunt's southern kennel, an eclipse of the imported English stock used in the Goshen territory. Ranta and Stafford'99, privately bred, were purchased locally from two of Virginia's most respected hound men.
While spending the necessary few weeks painting in the Plains, Mr. Newton in all likelihood hunted with Orange County Hunt, though neither diaries nor hunt records can be found to prove the point. Conjecture says, a foxhunting man in prime country surrounded by good friends and fellow sportsmen would likely not remain entirely in the studio waiting for his paints to dry. Also unknown is how long Newton remained in residence to produce two finished oil portraits suitable for Townsend's approval. Newton, at age 32 was an eligible bachelor, New York City clubman, Master of Foxhounds, and thus equal in social standing to his hosts. An incomplete picture of events remains; items such as snapshots, scrapbooks or diary entries of the social events, hunt breakfasts, lavish parties and early 20th style entertaining during the artist's visit, all of which surely ensued, have not been located. Social media had not yet been invented.
Information about our two foxhound portrait subjects is a bit more available and can be found in several notable accounts of American hunt history. The books, written by A. Mackay-Smith, J. Blan Van Urk, A. H. Higginson and more recently, Roger Pearson, each explore their significance and breeding.
Mackay-Smith notes in The American Foxhound: 1847-1967 that two sons of Col. Thomas Wycliffe Waller of Stafford, Virginia were important breeders of American Foxhounds. Later in life they were also neighbors living on the same farm near Broad Run where David, was "the breeder of the red and white bitch Stafford'99, ancestress of Orange County Ranta '23, who had her portrait painted by Richard Newton in 1906." When pondering names for his hound Mr. Waller possibly referred to Stafford, Virginia, his boyhood home, when he made his final selection.
Painted in Newton's flawless detail, standing alone, elegant in carriage in a wooded autumn landscape, red and white Stafford '99 intently gazes to the left. Seemingly, she is anticipating the next move of the fox on a hunting morning. Captured in full profile Newton intends this to be a painting along the lines of a conformation portrait. Contrasting this
draftsmanship is the artist's impressionistic brushwork, dabs and patches of color applied to render fallen leaves, and stately old trees. To lead our eye further into the distant landscapes, a white farmhouse and barn are created by two small brush strokes. Describing the breeding of the hound Stafford '99 Pearson says, "The records in the OCH pedigree books begin with the whelping of Stafford in June 1898. She was bred by David M. Waller of New Baltimore, Fauquier County, Virginia. She was by Mr. Waller's dog hound Rush out of his bitch hound Music." Purchased as a puppy by William Skinker, Jr. she was among the American pack he sold to OCH in 1903, after which he served as honorary huntsman and later joint-MFH from 1911- 1920 with Robert L. Gerry.
Ranta seems a curious name for a hound, and the name's origin is unknown. One obscure reference, a word in old Finnish meaning shore or lakeside, is of doubtful inspiration to the hound breeder. Another possibility comes from a hunting folk song. Ta-ranta-ta, ta-rantata-ta is a refrain, repeatedly woven into the song where each verse narrates the story as horses, riders, and hounds pursue a fast fox. Rantaway is suggested by Peter Beckford (1740-1811) among the proper "R" names for hounds, along with Ranter and Ranfack (Ransack in modern usage). Sir Beckford is today renowned for the 1781 treatise, Thoughts Upon Hunting, In a Series of Letters to a Familiar Friend. Beckford's Rantaway transforms nicely into Orange County's Ranta; it vocalizes with a quick two syllable snap – Ran Ta'. In describing the breeding of Ranta, R. A. Pearson, in his book The Orange County Hounds – the Plains Virginia – A History, notes "hounds bred by William Early, Lady, Nimrod and Ranta by Nimrod were entered in William Skinker, Jr.'s private pack in the late 1890's…[which] he sold in 1903," when the hunt moved south from Orange County, New York to the Plains, Virginia. Ranta was among the club's first American dog hounds, and locally bred from proven hunting
stock.
William M. Early (1849-1934) of Madison, Virginia, Skinker's maternal uncle, developed American hounds uniquely known as Madison red ring-necked hounds. Red in color with white necks, they exhibited great dive, good nose, abundant cry and hunted well as a pack in the wooded foothills of the Blue Ridge Mountains. Ranta was among the foundation hounds for Orange County's new American pack. Nearly entirely red in color the dog and his early progeny were instrumental in the Hunt's red ring neck breeding program. In Newton's portrait Ranta stands in full profile, nearly alone on a hillside on a frosty hunting day. The red coated hound is set off by a softly lit tan and gold fall landscape.
Surveying the scene, noble and determined in posture, the hound's pose signals athleticism, an ability to gallop off wherever his nose takes him. Characteristically Newton's draftsmanship sharply defines the hound as the main subject while also using his paintbrushes freely to capture the huntsman and two whippers-in, to create a long view in the composition. In the middle ground of the scene are two working hounds, their postures each telling part of the story of what hounds look like when they quietly work out a scent line. Here too, like the painting of Stafford '99 the artist strives to produce a conformation portrait. Ranta is portrayed as a working hound, if in a somewhat fabricated autumn landscape. The stylized scene is comprised of everyday elements; stone walls, snake fences, a century-old oak tree, and a vivid blue sky with fluffy clouds sailing by, that when combined create a pleasant pictorial effect. Artistic invention, color usage, brush stroke style, what is termed technique, when repeated as such in different paintings, produces a recognizable style. A Newton is a Newton as a Munnings or a Voss is to its creator. Instantly recognizable, unmistakable to the trained eye.
Soon after their completion, both paintings were photographed by the prestigious studio, Peter A. Juley & Son, which by 1907 had relocated from Cold Stream to New York, NY. For over seventy- five years, between 1896 and 1975, the studio produced photographs documenting American art and made portraits of over 4,700 artists. Photographs were made of Mr. Newton's paintings, Ranta and Stafford '99 and are among the 127, 000 negatives of artworks found in the Juley Collection of the Smithsonian Museum of American Art, Washington, DC. To broaden its holdings Juley & Son acquired additional negatives from other prominent fine art and portrait photographers. At the time of the publication of With Brush and Bridle, in 2006, the Juley photographs in the Smithsonian provided the only known record of the canvases; the location of the paintings themselves remained unknown. The Orange County Hunt on a Run, 1906, Oil on canvas. Location unknown. Possibly destroyed by fire at the OCH clubhouse. Photograph of the canvas, Collection of Lida F. Bloodgood, National Sporting Library and Museum, Middleburg, VA.
Having located these important Newton paintings brings to mind the common saying, "Every dog has his day;" at MHHNA this day belongs to both Ranta and Stafford '99.
Additional Orange County Hunt Commissions
Painted by Richard Newton, Jr in 1906
John R. Townsend, MFH, Riding Greek Dollar, 1906
Oil on canvas, 43 ¾" x 54 ¾"
Collection of the Long Island Museum, Stony Brook, NY. Gift of Ward Melville. Published in color in, With Brush and Bridle– Richard Newton, Jr. – Artist and Equestrian, John J. Head, 2006.
The Orange County Hunt (Founders),1906
Oil on canvas, Location unknown.
Possibly destroyed by fire. Individuals likely include: Edward H. Harriman, F. Gray Griswold, John R. Townsend and Dr. J. O. Green and William Skinker, Jr. huntsman. Photograph in black and white by A. F. Bradley published in, The Hunts of the United States and Canada, A. H. Higginson and J. I. Chamberlain, 1908.
The Orange County Hunt on a Run, 1906
Oil on canvas. Location unknown.
Possibly destroyed by fire at the OCH clubhouse. Photograph of the canvas, Collection of Lida F. Bloodgood, National Sporting Library and Museum, Middleburg, VA. Individuals identified in her handwritten caption include: J. R. Townsend, MFH; S. C. Glascock, whipper-in; and William Skinker, Jr., huntsman. Photograph in black and white by A. F. Bradley published in The American Foxhound, 1747-1967, Alexander MackaySmith, 1968.
---
Bibliography
Beckford, Peter, Esq.: Thoughts Upon Hunting, In a Series of Letters to a Familiar
Friend, London, 1781.
Head, John James: With Brush and Bridle – Richard Newton, Jr. – Artist and
Equestrian. Washington, VA: Ellerslie Press, 2006.
Higginson, A. Henry and Julian Ingersoll Chamberlain: Hunting in the United States
and Canada. Garden City, NY: Doubleday, Doran, 1928.
Higginson. A. H. and J. I. Chamberlain: The Hunts of the United States and Canada.
Boston, MA: F. Wiles, 1908.
Mackay-Smith, Alexander: The American Foxhound, 1747-1967. The American
Foxhound Club, 1968.
About the Author
John J. Head discovered and developed an interest in Richard Newton, Jr., while serving as the director of the Museum of Hounds and Hunting in Leesburg, VA, from 1999 to 2005. An avid foxhunter, John holds degrees in the fine arts from The Pennsylvania State University and Rochester Institute of Technology (RIT) and has taught design, journalism, color theory, photography and the history of photography at RIT, the University of Georgia, Long Island University at Southampton, and Washington College in Chestertown, MD.