July 21, 1926 – May 18, 2009
By J. Harris Anderson
A native of Baltimore, MD, Peter Winants grew up immersed in the world of horse sports. Following his father's death when Peter was five, his mother married legendary horseman S. Bryce Wing. In 1938 Winants witnessed the famous match race between Seabiscuit and War Admiral at Pimlico.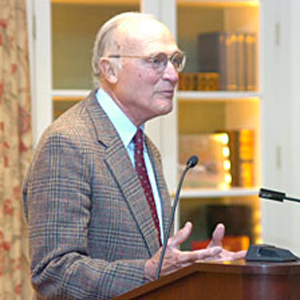 His early achievements included foxhunting with the Elkridge-Harford Hunt, riding as an amateur steeplechase jockey, Army service during WWII with another stint during the Korean War, and attending Princeton University.
It was at Princeton that Winants met the late George L. Ohrstrom, Jr., who would later become the owner of The Chronicle of the Horse. This proved to be a fortuitous friendship as Ohrstrom hired Mr. Winants in 1972 to serve as editorial assistant. Three years later Peter was elevated to editor/publisher. He served The Chronicle for 19 years, retiring in 1991 at the age of 65.
Winants career in journalism began with his love for photography, bolstered by his talent for capturing the action of the racetrack, both flat and steeplechase. His coverage of Jay Trump, 1965's winner of the English Grand National and the Maryland Hunt Cup, resulted in an expansion of his career into print journalism. From freelancing for The Maryland Horse he went on to write the first of his four books, Jay Trump: A Steeplechasing Saga in 1966. Six years later he began his nearly 20 year career at The Chronicle of the Horse.
Retirement simply meant more time to channel his energy and talents into other pursuits, all focused on bringing the world of horse sports to a wider audience. He joined the Museum of Hounds & Hunting Advisory Board and was instrumental in many of the key decisions that have allowed the Museum to remain a widely appreciated repository of the art and artifacts of mounted hunting in North America. The Museum benefitted greatly from his deep knowledge of sporting art as well as his charming manner and the wide respect he enjoyed throughout the racing and hunting communities.
He served on the board of the National Sporting Library in Middleburg and was the driving force in the efforts to construct a new building for the library.
He also found time to pen more books. Flatterer: A Story of a Steeplechase Champion, was published in 1988. Three more followed during his retirement years: Steeplechasing: The Complete History of the Sport in North America (2000), Foxhunting with Melvin Poe (2002), and The Sporting Art of Franklin B. Voss (2005).
Winants' and his wife Rosemary Margaret were married in 1956 and had four children and six grandchildren. Two of Winants's sons, Peter Junior and Garet "Woods" Winants, became amateur steeplechase jockeys. Following Margaret's death in 2002, Peter married Mary Weeden Winants in 2003. They shared Sunnyside Farm in Rectortown, Virginia, until his death in 2009.
Peter Winants is widely remembered as a gentle, erudite, and gracious man, one who was always encouraging of others, a man who accomplished much, yet was never boastful of his achievements. He will be missed by many, quite deeply by his fellow Museum members who admired and respected him beyond measure.